A Jonas Vingegaard – Tadej Pogacar duel is announced. The two riders have smashed everything since the start of the year and seem three legs above the other contenders for the yellow jersey.
On the starting line, only five runners (3%) have already been pinned in our doping directory. This is one more than in 2022.
This Tour did not disappoint, if we dare not say. Jonas Vingegaard and Tadej Pogacar have effectively "destroyed" their opponents. After which Vingegaard also smashed his Slovenian opponent.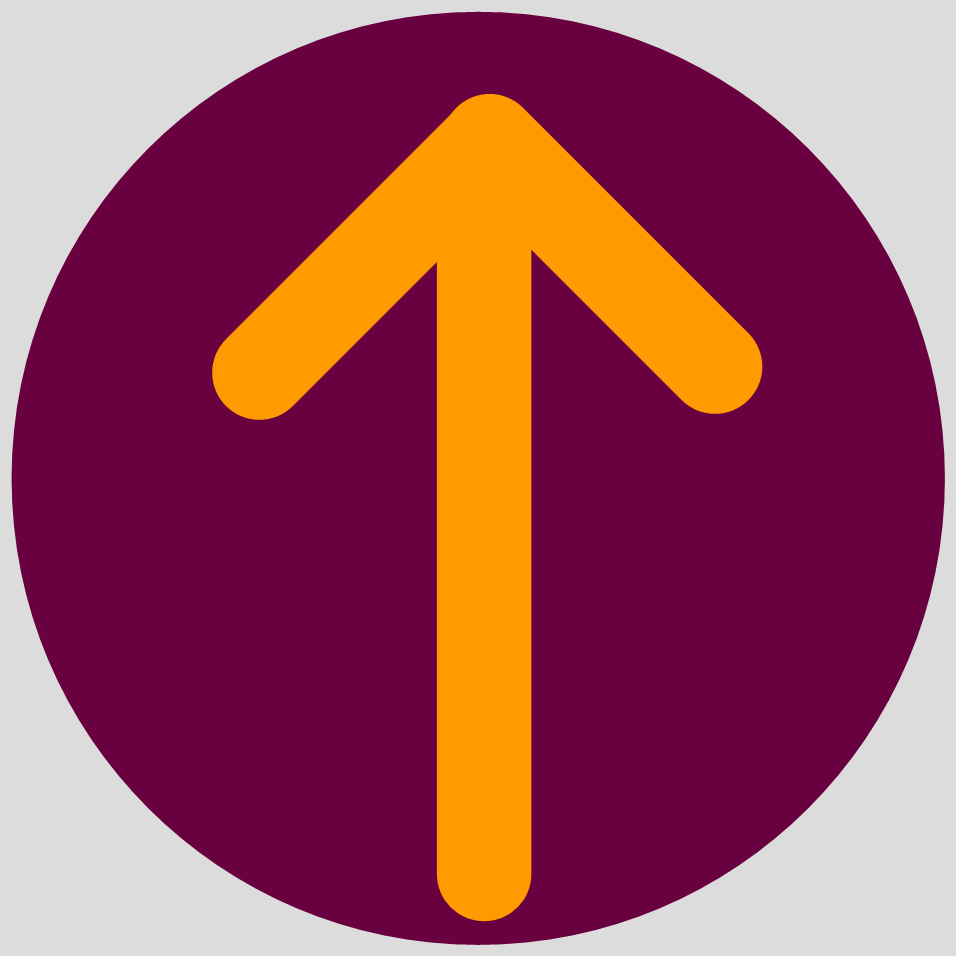 The list of participants
The list of participants by team
To understand the color symbols attached to teams and riders, click here.
Jumbo-Visma
◆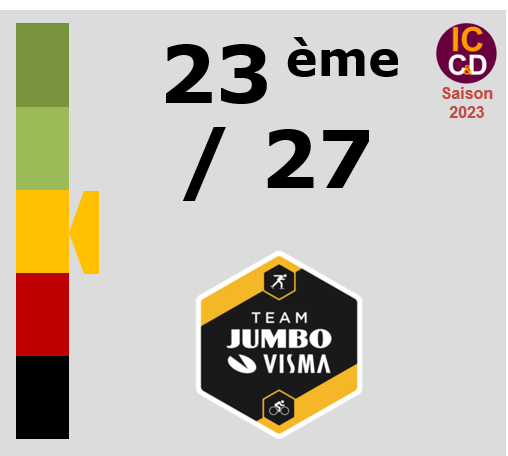 40 years of existence, 25 cases, ie 0,63 per year
1. ▰ Vingegaard Rasmussen Jonas
2. ▰ Benoot Tiesj
3. ▰ Kelderman Wilco
4. ▰ Kuss Sepp
5. ▰ Laporte Christophe
6. ▰ Van Aert Wout
7. ▰ Van Baarle Dylan
8. ▰ Van Hooydonck Nathan

UAE Team Emirates
◆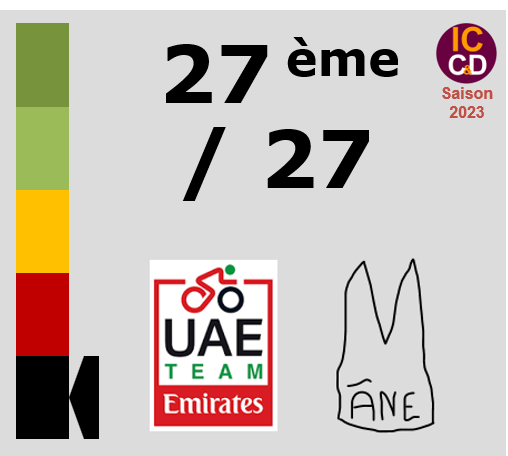 25 years of existence, 34 cases, ie 1,36 per year
11. ▰ Pogacar Tadej
12. ▰ Bjerg Mikkel
14. ▰ Grossschartner Felix
15. ▰ Stake Laengen Vegard
16. ▰ Majka Rafal
17. ▰ Soler Gimenez Marc
18. ▰ Trentin Matteo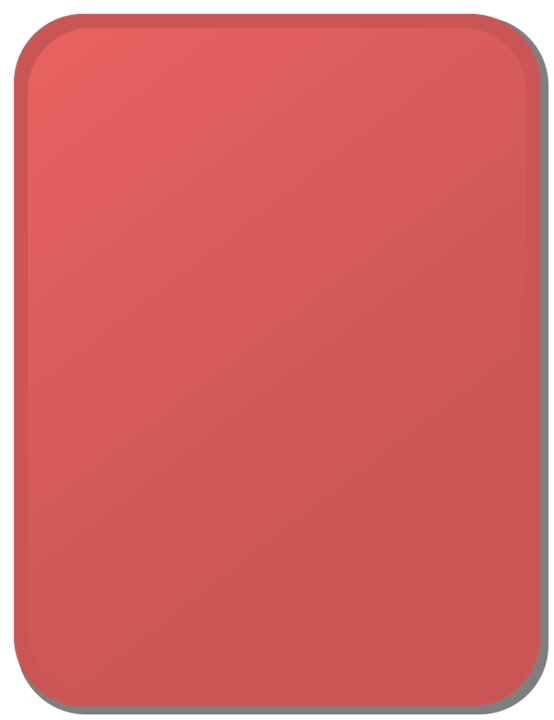 2006 : positive control
19. ▰ Yates Adam

INEOS Grenadiers
◆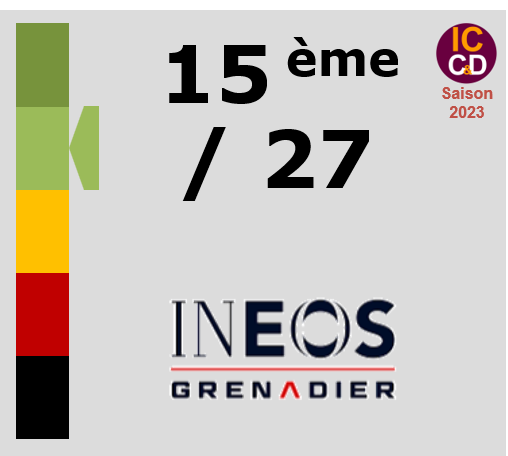 14 years of existence, 5 cases, ie 0,36 per year
21. ▰ Bernal Gomez Egan Arley
22. ▰ Castroviejo Nicolas Jonathan
23. ▰ Fraile Matarranz Omar
24. ▰ Kwiatkowski Michal
25. ▰ Martínez Poveda Daniel Felipe
26. ▰ Pidcock Thomas
27. ▰ Rodriguez Cano Carlos
28. ▰ Turner Ben

Groupama - FDJ
◆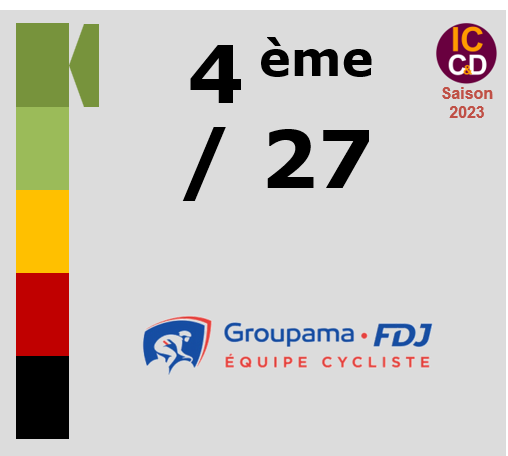 27 years of existence, 13 cases, ie 0,48 per year
31. ▰ Gaudu David
32. ▰ Geniets Kevin
33. ▰ Küng Stefan
34. ▰ Le Gac Olivier
35. ▰ Madouas Valentin
36. ▰ Pacher Quentin
37. ▰ Pinot Thibaut
38. ▰ Van Den Berg Lars

EF Education-EasyPost
◆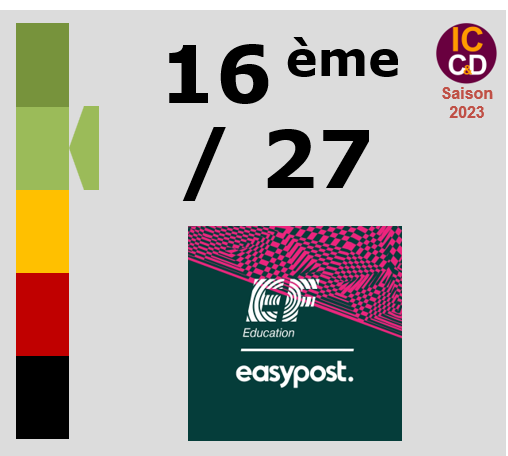 19 years of existence, 3 cases, ie 0,16 per year
41. ▰ Carapaz Montenegro Richard Anton
42. ▰ Amador Bipkazakova Andrei
43. ▰ Bettiol Alberto
44. ▰ Chaves Rubio Johan Esteban
45. ▰ Cort Nielsen Magnus
46. ▰ Powless Neilson
47. ▰ Shaw James
48. ▰ Uran Rigoberto

Soudal - Quick Step
◆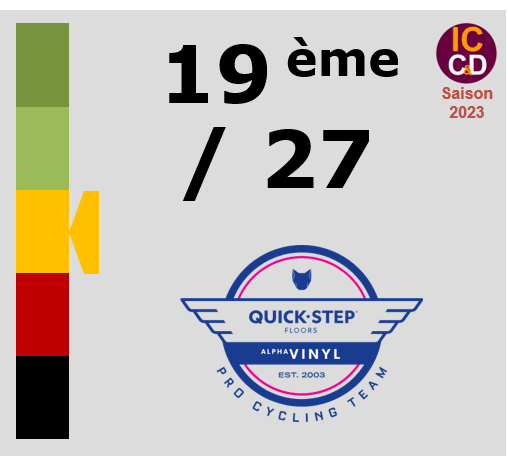 31 years of existence, 26 cases, ie 0,84 per year
51. ▰ Alaphilippe Julian
52. ▰ Asgreen Kasper
53. ▰ Cavagna Rémi
54. ▰ Declercq Tim
55. ▰ Devenyns Dries
56. ▰ Jakobsen Fabio
57. ▰ Lampaert Yves
58. ▰ Morkov Christiansen Michael

Bahrain - Victorious
◆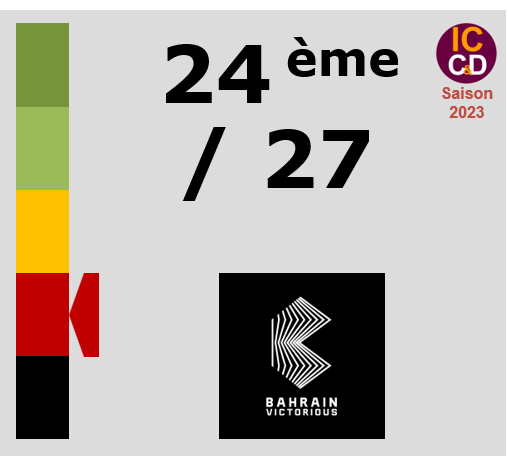 7 years of existence, 2 cases, ie 0,29 per year
62. ▰ Landa Meana Mikel
63. ▰ Arndt Nikias
64. ▰ Bauhaus Phil
65. ▰ Bilbao Lopez De Armentia Pello
66. ▰ Haig Jack
67. ▰ Mohoric Matej
68. ▰ Poels Wouter
69. ▰ Wright Alfred

BORA - hansgrohe
◆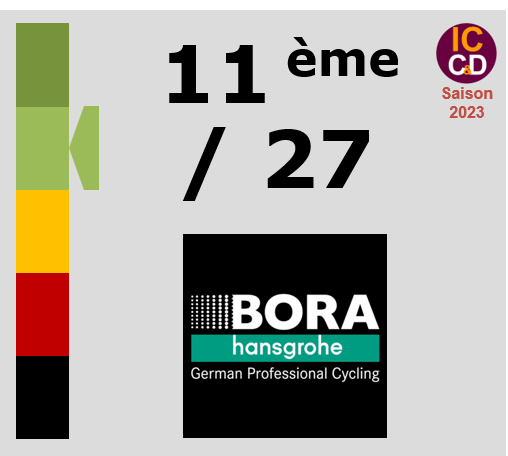 14 years of existence, 1 case, ie 0,07 per year
71. ▰ Hindley Jai
72. ▰ Buchmann Emanuel
73. ▰ Haller Marco
74. ▰ Jungels Bob
75. ▰ Konrad Patrick
76. ▰ Meeus Jordi
77. ▰ Politt Nils
78. ▰ Van Poppel Danny

Trek - Segafredo
◆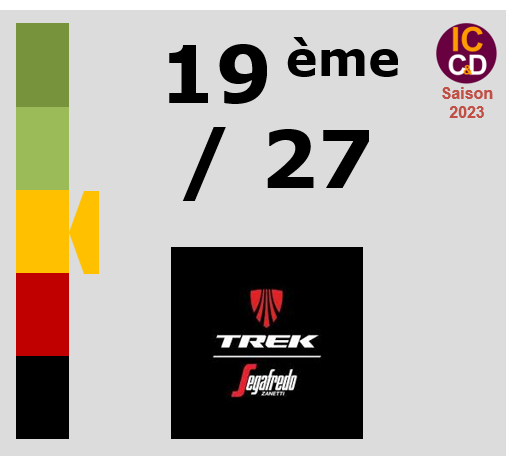 13 years of existence, 4 cases, ie 0,31 per year
81. ▰ Ciccone Giulio
82. ▰ Gallopin Tony
83. ▰ Skjelmose Jensen Mattias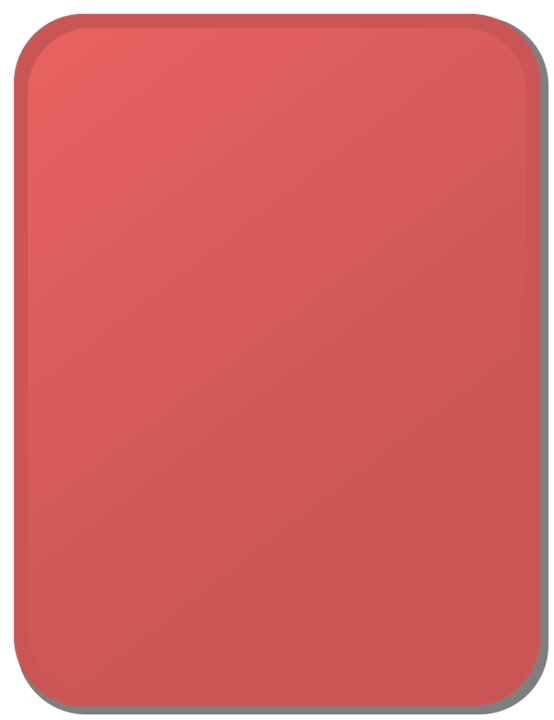 2018 : positive control
84. ▰ Kirsch Alex
85. ▰ Lopez Perez Juan Pedro
86. ▰ Pedersen Mads
87. ▰ Simmons Quinn
88. ▰ Stuyven Jasper

AG2R Citroën Team
◆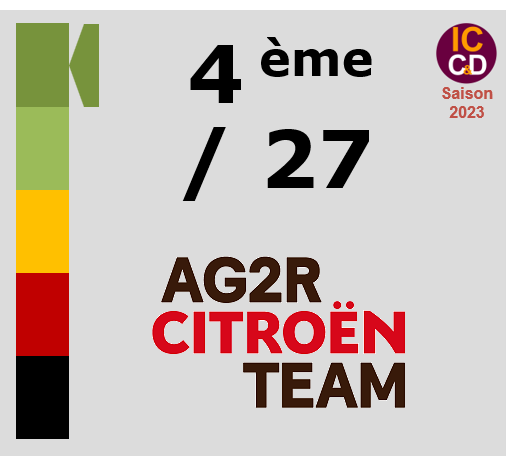 32 years of existence, 18 cases, ie 0,56 per year
91. ▰ O'connor Ben Alexander
92. ▰ Berthet Clément
93. ▰ Cosnefroy Benoît
94. ▰ Dewulf Stan
95. ▰ Gall Felix
96. ▰ Naesen Oliver
97. ▰ Paret-peintre Aurélien
98. ▰ Peters Nans

Alpecin-Deceuninck
◆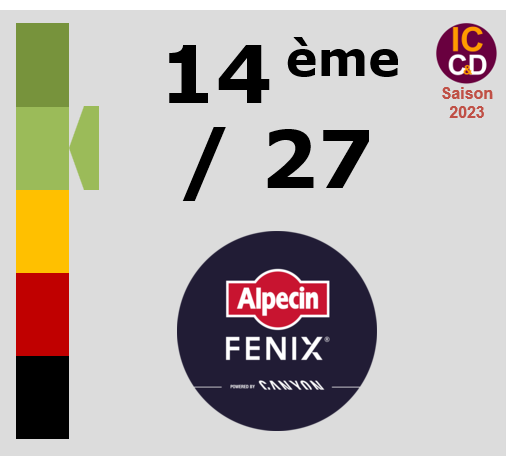 15 years of existence, 1 case, ie 0,07 per year
101. ▰ Van Der Poel Mathieu
102. ▰ Dillier Silvan
103. ▰ Gogl Michael
104. ▰ Hermans Quinten
105. ▰ Kragh Andersen Soren
106. ▰ Philipsen Jasper
107. ▰ Rickaert Jonas
108. ▰ Sinkeldam Ramon

Intermarché - Circus - Wanty
◆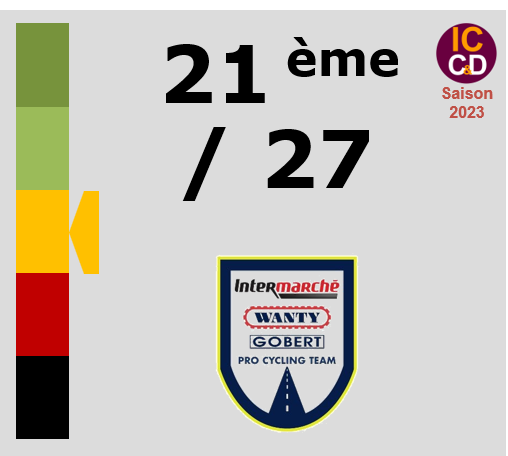 19 years of existence, 4 cases, ie 0,21 per year
111. ▰ Girmay Hailu Biniam
112. ▰ Calméjane Lilian
113. ▰ Faria Da Costa Rui Alberto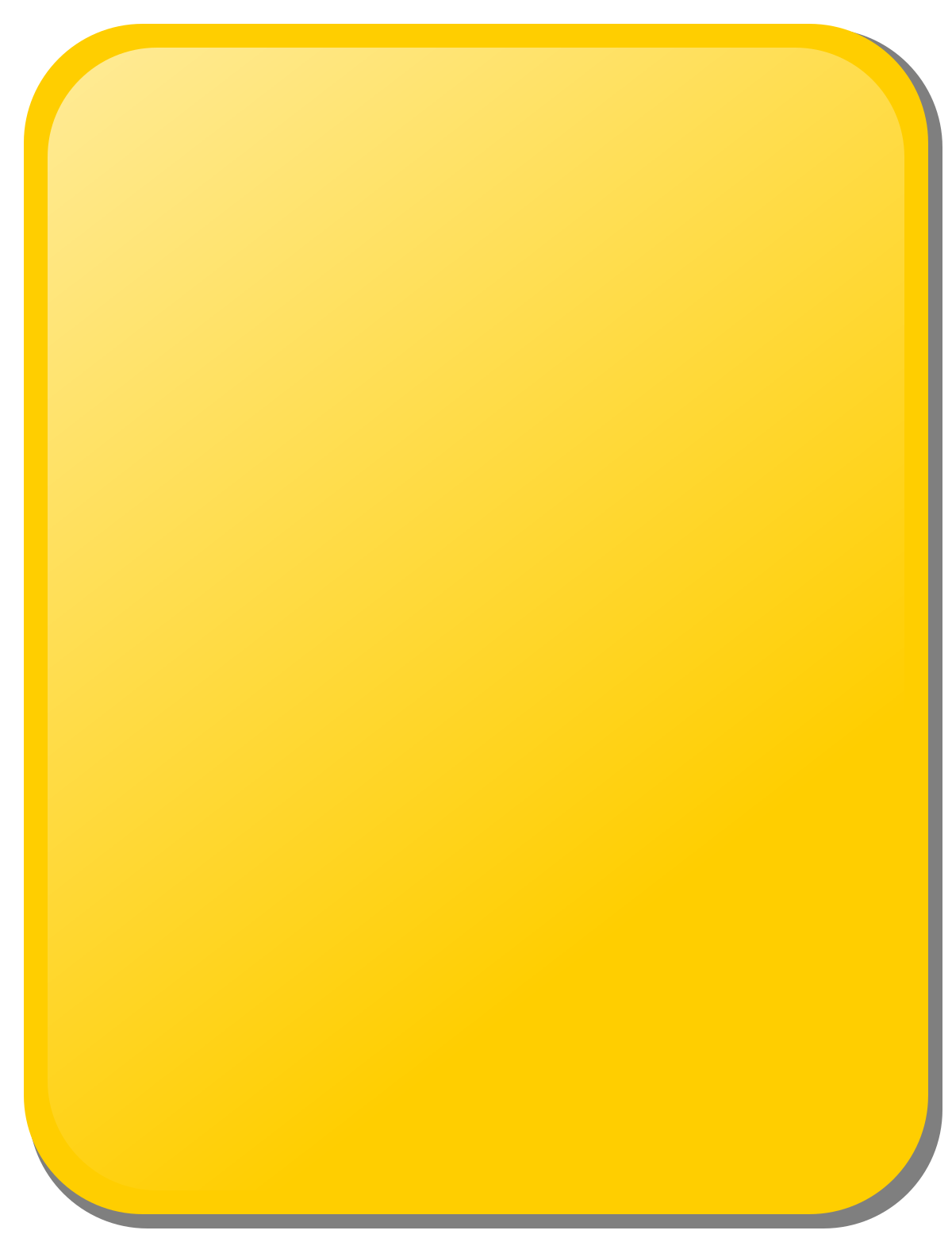 2010 : positive control (no penalty)
114. ▰ Meintjes Louis
115. ▰ Petit Adrien
116. ▰ Smith Dion
117. ▰ Teunissen Mike
118. ▰ Zimmermann Georg

Cofidis
◆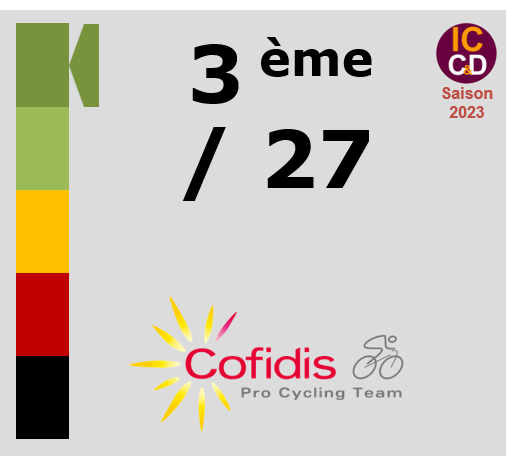 28 years of existence, 21 cases, ie 0,75 per year
121. ▰ Martin Guillaume
122. ▰ Coquard Bryan
123. ▰ Geschke Simon
124. ▰ Izagirre Insausti Jon
125. ▰ Lafay Victor
126. ▰ Perez Anthony
127. ▰ Renard Alexis
128. ▰ Zingle Axel

Movistar Team
◆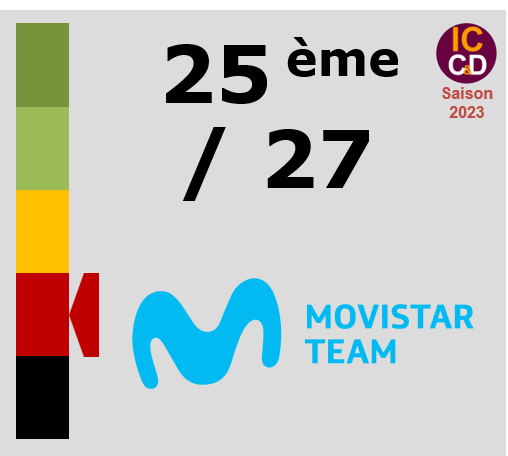 44 years of existence, 29 cases, ie 0,66 per year
131. ▰ Mas Nicolau Enric
132. ▰ Guerreiro Ruben
133. ▰ Aranburu Alex
134. ▰ Izagirre Insausti Gorka
135. ▰ Jorgenson Matteo
136. ▰ Muhlberger Gregor
137. ▰ Santos Simoes Oliveira Nelson Filipe
138. ▰ Pedrero Lopez Antonio

Team DSM
◆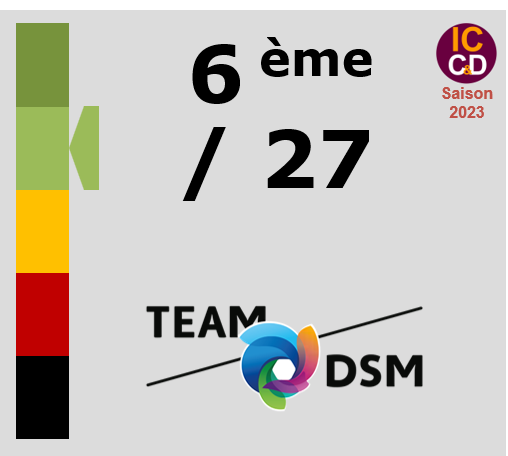 19 years of existence, 3 cases, ie 0,16 per year
141. ▰ Bardet Romain
142. ▰ Degenkolb John
143. ▰ Dinham Matthew
144. ▰ Edmondson Alexander
145. ▰ Eekhoff Nils
146. ▰ Hamilton Chris
147. ▰ Vermaerke Kevin
148. ▰ Welsford Sam

Israel - Premier Tech
◆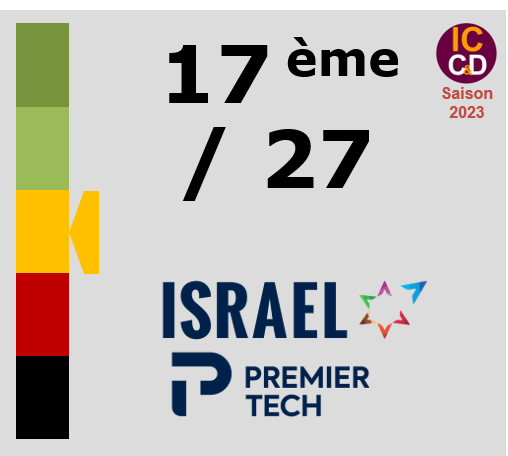 9 years of existence, 1 case, ie 0,11 per year
151. ▰ Woods Michael
152. ▰ Boivin Guillaume
153. ▰ Clarke Simon
154. ▰ Houle Hugo
155. ▰ Neilands Krists
156. ▰ Schultz Nicholas
157. ▰ Strong Corbin
158. ▰ Teuns Dylan

Team Jayco AlUla
◆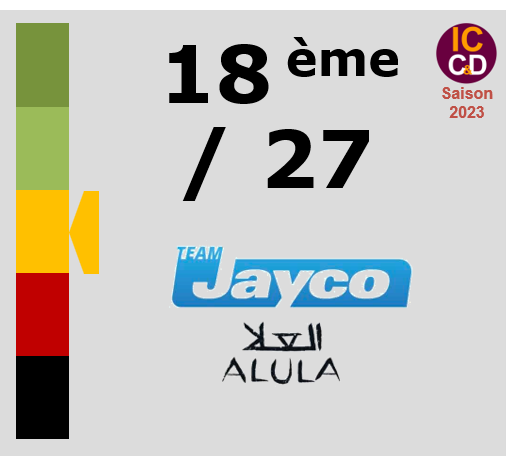 12 years of existence, 4 cases, ie 0,33 per year
161. ▰ Yates Simon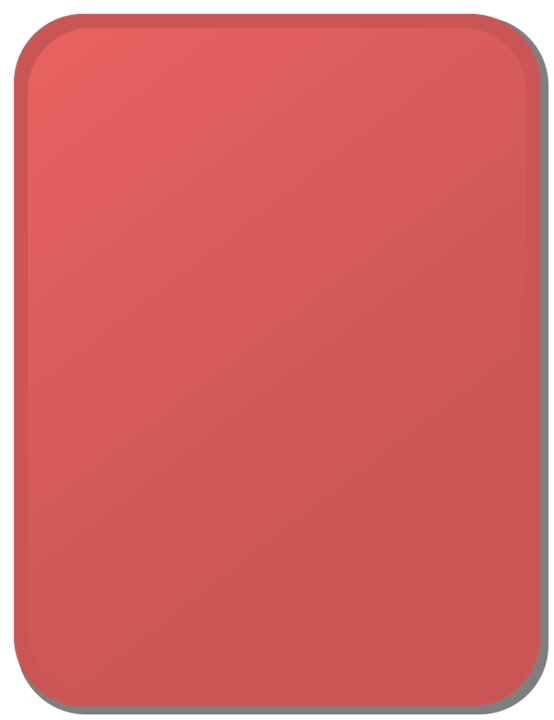 2016 : positive control
162. ▰ Craddock Lawson
163. ▰ Durbridge Luke
164. ▰ Groenewegen Dylan
165. ▰ Harper Chris
166. ▰ Juul Jensen Christopher
167. ▰ Mezgec Luka
168. ▰ Reinders Elmar

Team Arkéa Samsic
◆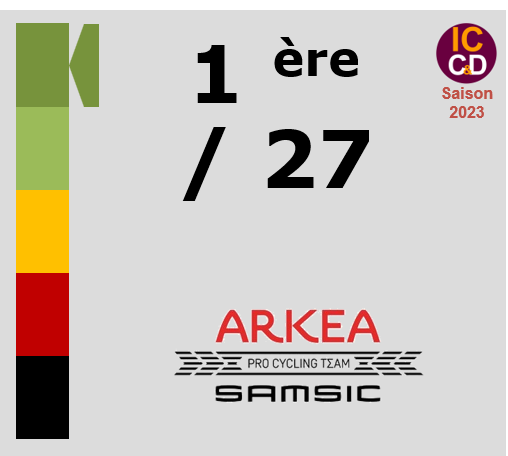 28 years of existence, 1 case, ie 0,04 per year
171. ▰ Barguil Warren
172. ▰ Biermans Jenthe
173. ▰ Champoussin Clement
174. ▰ Delaplace Anthony
175. ▰ Guglielmi Simon
176. ▰ Louvel Matis
177. ▰ Mozzato Luca
178. ▰ Pichon Laurent

Lotto Dstny
◆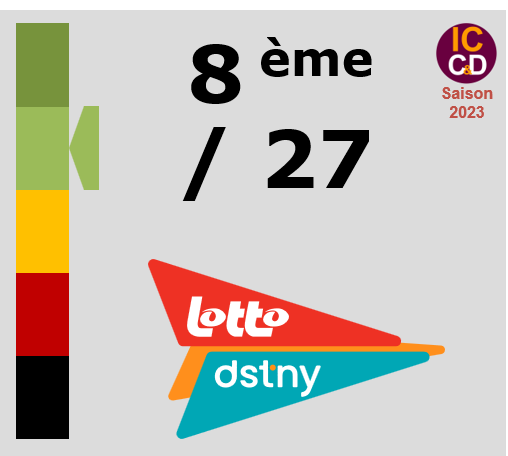 40 years of existence, 14 cases, ie 0,35 per year
181. ▰ Ewan Caleb
182. ▰ Campenaerts Victor
183. ▰ De Buyst Jasper
184. ▰ Eenkhoorn Pascal
185. ▰ Frison Frederik
186. ▰ Guarnieri Jacopo
187. ▰ Van Gils Maxim
188. ▰ Vermeersch Florian

Astana Qazaqstan Team
◆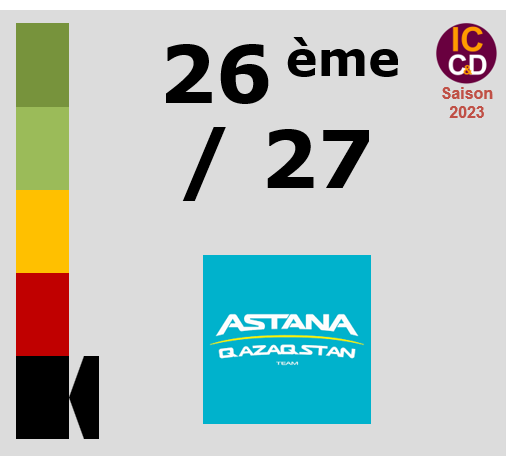 17 years of existence, 19 cases, ie 1,12 per year
191. ▰ Cavendish Mark
192. ▰ Bol Cees
193. ▰ De La Cruz Melgarejo David
194. ▰ Fedorov Yevgeniy
195. ▰ Lutsenko Alexey
196. ▰ Moscon Gianni
197. ▰ Sanchez Gil Luis Leon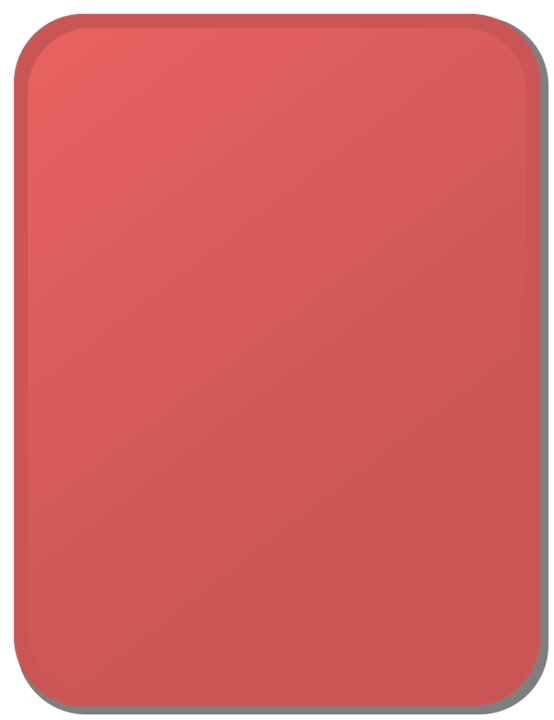 2006 : internal inquiry
198. ▰ Tejada Canacue Harold Alfonso

Uno-X Pro Cycling Team
◆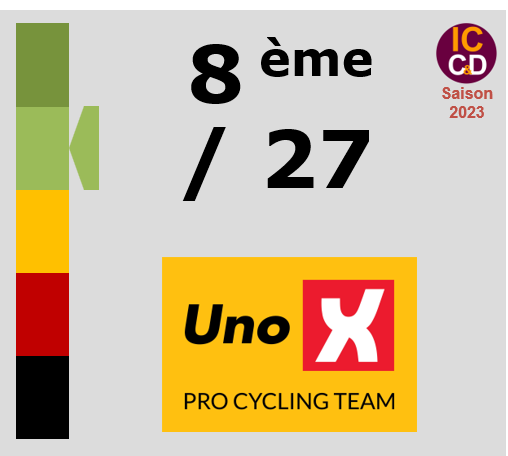 14 years of existence, 0 cases, ie 0 per year
201. ▰ Kristoff Alexander
202. ▰ Abrahamsen Jonas
203. ▰ Charmig Anthon
204. ▰ Johannessen Tobias Halland
205. ▰ Tiller Rasmus Fossum
206. ▰ Traeen Torstein
207. ▰ Waerenskjold Soren
208. ▰ Wilsly Jonas Gregaard

TotalEnergies
◆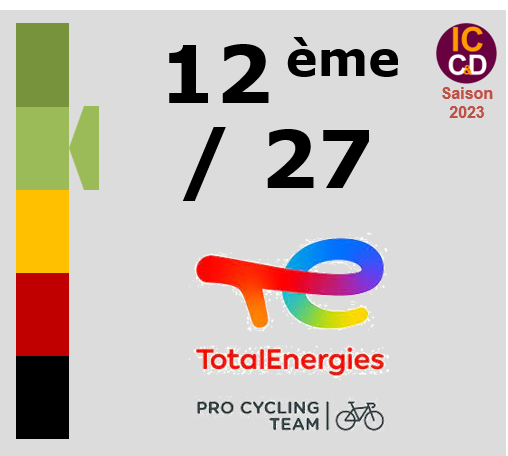 24 years of existence, 6 cases, ie 0,25 per year
211. ▰ Sagan Peter
212. ▰ Boasson Hagen Edvald
213. ▰ Burgaudeau Mathieu
214. ▰ Cras Steff
215. ▰ Ferron Valentin
216. ▰ Latour Pierre-roger
217. ▰ Oss Daniel
218. ▰ Turgis Anthony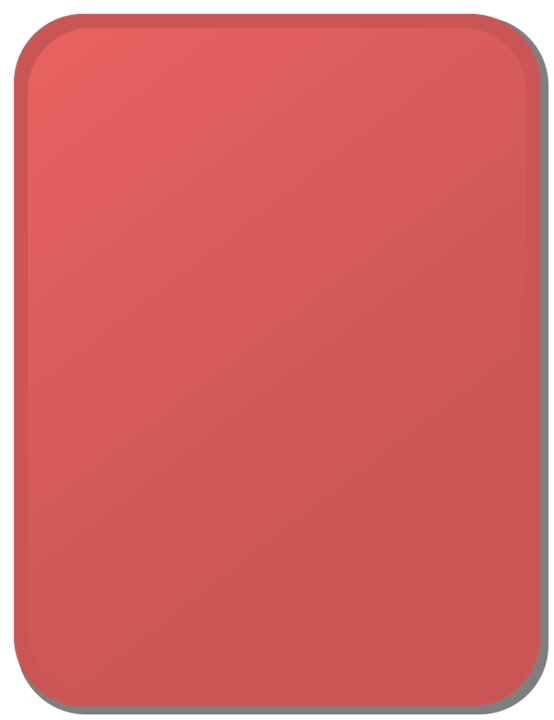 reports a rider who was sanctioned in a doping case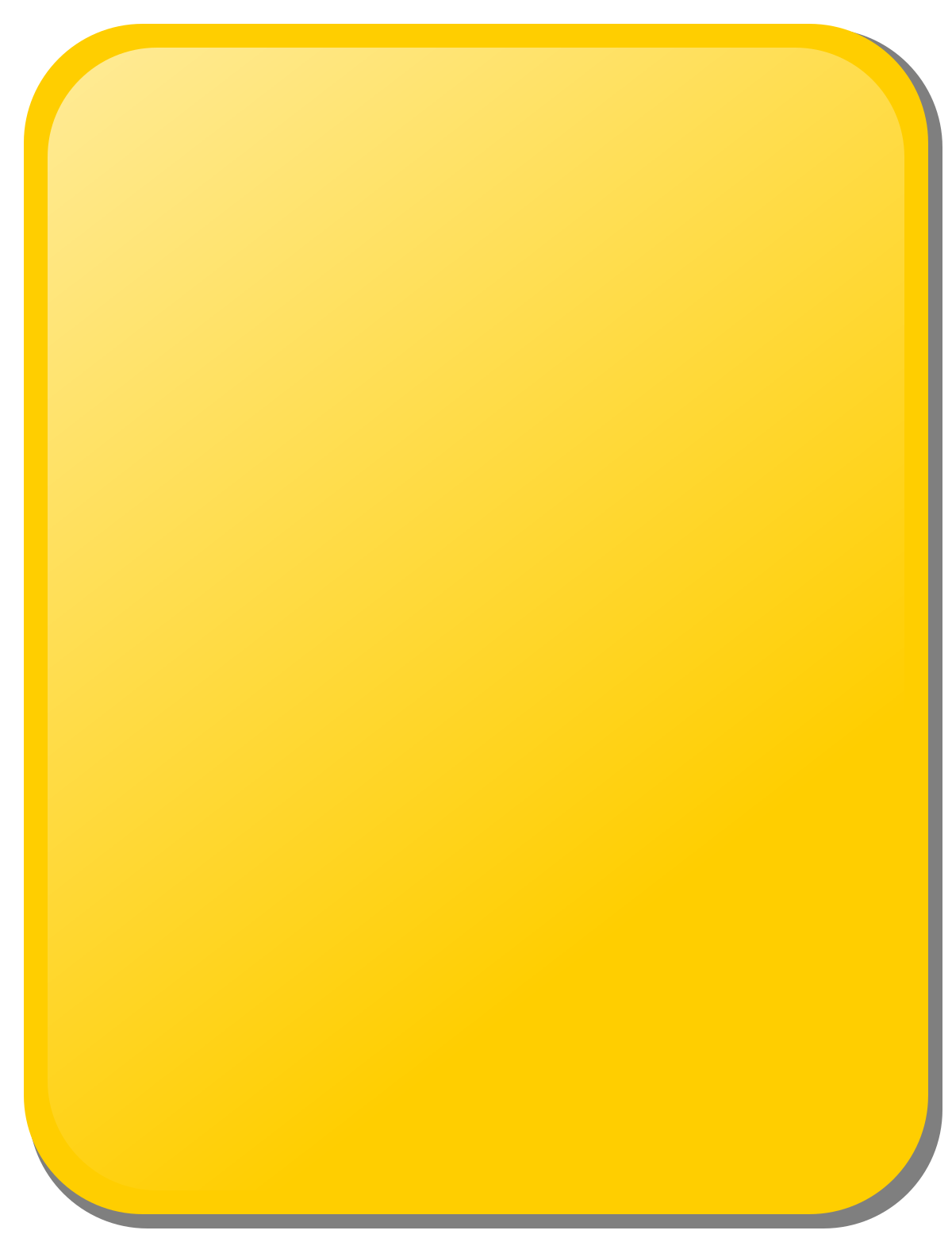 reports a rider pinned in our doping directory but who has not been sanctioned or whose we are not aware of the possible sanction