At the time of the start in Fossacesia, the number of riders who have already been involved in doping cases is only 2% (three riders). This is the lowest figure since we have been keeping these records. The UAE Team Emirates, Astana Qazaqstan Team and Bahrain-Victorious stand out as the only teams with riders who have been pinned down. This is no surprise: they were the worst teams in our 2022 Confidence Index.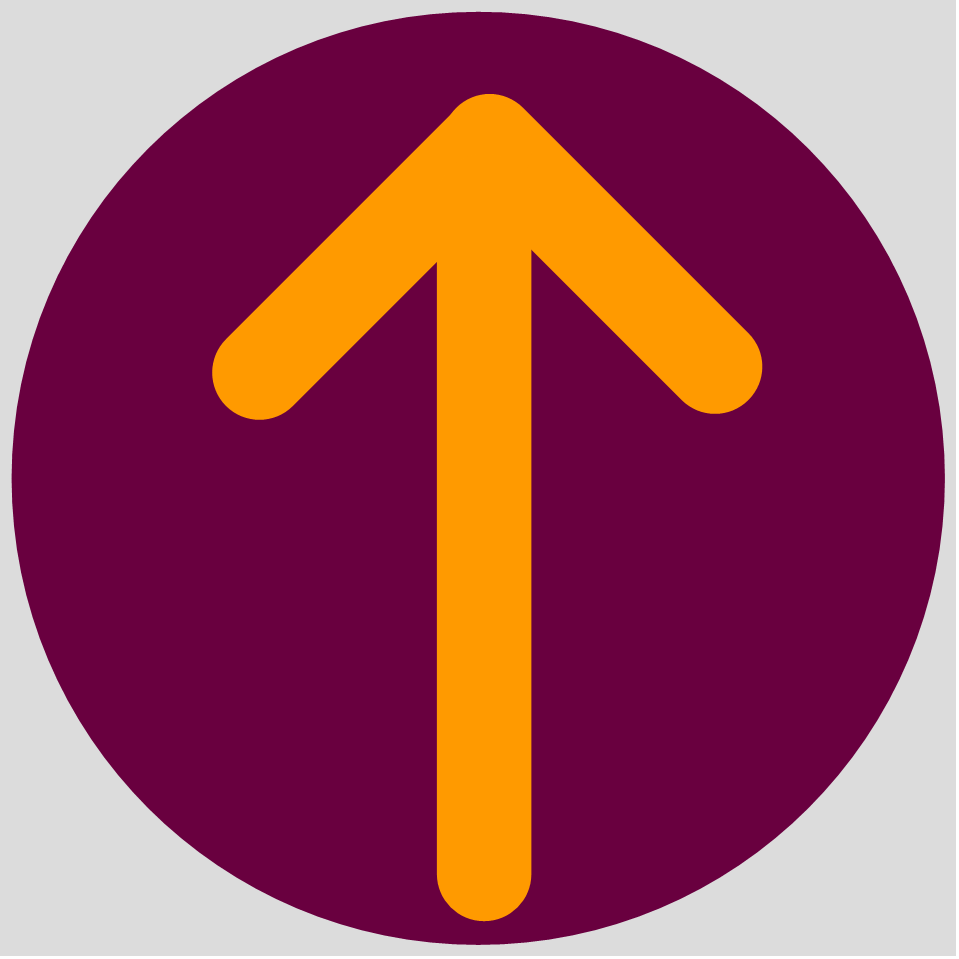 The list of participants
The list of participants by team
Pour comprendre les symboles de couleur accolés aux équipes et coureurs, cliquez ici.
Soudal - Quick Step
◆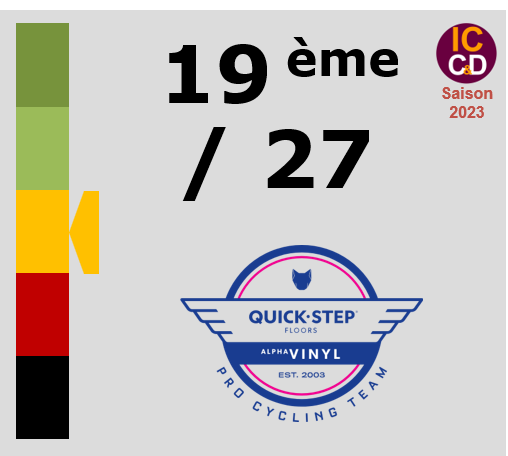 31 years of existence, 26 cases, ie 0,84 per year
1. ▰ Evenepoel Remco
2. ▰ Ballerini Davide
3. ▰ Cattaneo Mattia
4. ▰ Cerny Josef
5. ▰ Hirt Jan
6. ▰ Serry Pieter
7. ▰ Van Wilder Ilan
8. ▰ Vervaeke Louis

AG2R Citroën Team
◆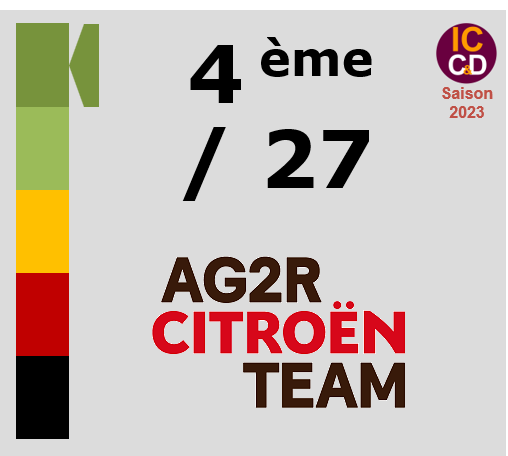 32 years of existence, 18 cases, ie 0,56 per year
11. ▰ Paret-peintre Aurélien
12. ▰ Baudin Alex
13. ▰ Cherel Mickaël
14. ▰ Lapeira Paul
15. ▰ Paret-peintre Valentin
16. ▰ Prodhomme Nicolas
17. ▰ Vendrame Andrea
18. ▰ Warbasse Lawrence

Alpecin-Deceuninck
◆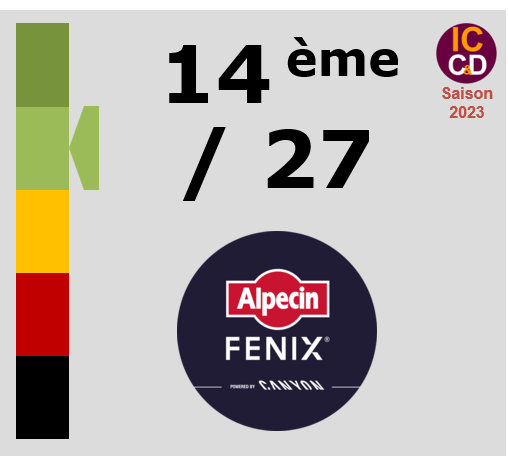 15 years of existence, 1 case, ie 0,07 per year
21. ▰ Oldani Stefano
22. ▰ Conci Nicola
23. ▰ Groves Kaden
24. ▰ Krieger Alexander
25. ▰ Leysen Senne
26. ▰ Riesebeek Oscar
27. ▰ Sbaragli Kristian
28. ▰ Sinkeldam Ramon

Astana Qazaqstan Team
◆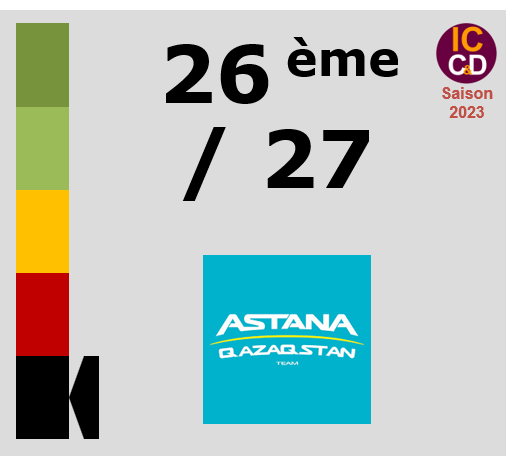 17 years of existence, 19 cases, ie 1,12 per year
31. ▰ Cavendish Mark
32. ▰ Battistella Samuele
33. ▰ Dombrowski Joseph Lloyd
34. ▰ Moscon Gianni
35. ▰ Pronskiy Vadim
36. ▰ Sanchez Gil Luis Leon - 2006 : internal inquiry
37. ▰ Scaroni Christian
38. ▰ Velasco Simone

Bahrain - Victorious
◆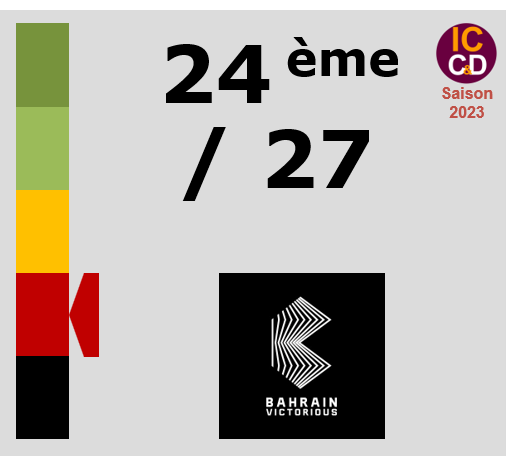 7 years of existence, 2 cases, ie 0,29 per year
41. ▰ Haig Jack
42. ▰ Arashiro Yukiya
43. ▰ Buitrago Sanchez Santiago
44. ▰ Caruso Damiano - 2007 : investigation
45. ▰ Milan Jonathan
46. ▰ Pasqualon Andrea
47. ▰ Sutterlin Jasha
48. ▰ Zambanini Edoardo

BORA - hansgrohe
◆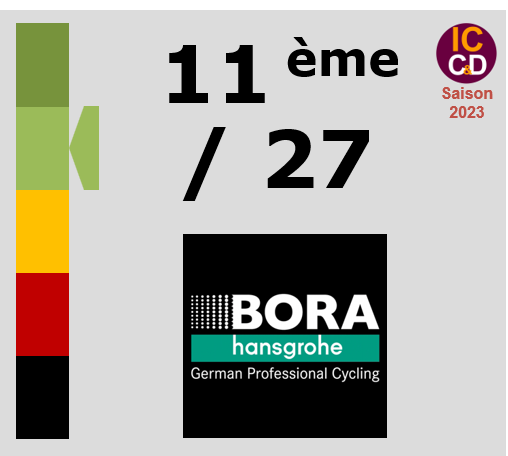 14 years of existence, 1 case, ie 0,07 per year
51. ▰ Vlasov Aleksander
52. ▰ Aleotti Giovanni
53. ▰ Benedetti Cesare
54. ▰ Denz Nico
55. ▰ Jungels Bob
56. ▰ Kämna Lennard
57. ▰ Konrad Patrick
58. ▰ Palzer Anton

Cofidis
◆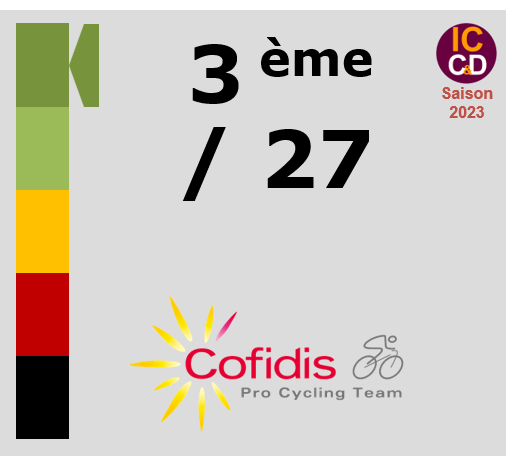 28 years of existence, 21 cases, ie 0,75 per year
61. ▰ Consonni Simone
62. ▰ Bidard François
63. ▰ Champion Thomas
64. ▰ Cimolai Davide
65. ▰ Delettre Alexandre
66. ▰ Lastra Jonathan
67. ▰ Rochas Rémy
68. ▰ Toumire Hugo

EF Education-EasyPost
◆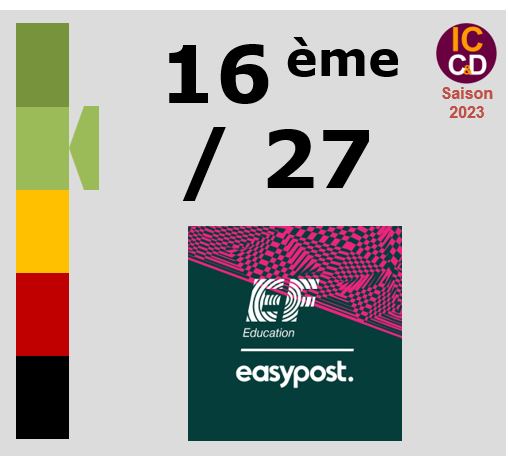 19 years of existence, 3 cases, ie 0,16 per year
71. ▰ Uran Rigoberto
72. ▰ Caicedo Cepeda Jonathan Klever
73. ▰ Carthy Hugh
74. ▰ Cepeda Ortiz Jefferson Alexander
75. ▰ De Bod Stefan
76. ▰ Healy Ben
77. ▰ Bettiol Alberto
78. ▰ Cort Nielsen Magnus

EOLO-Kometa
◆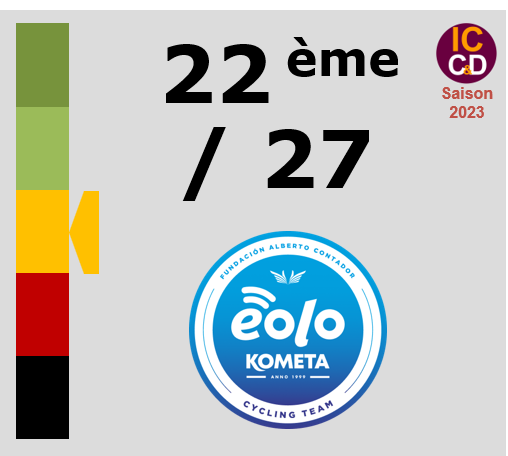 6 years of existence, 0 cases, ie 0 per year
81. ▰ Albanese Vincenzo
82. ▰ Bais Davide
83. ▰ Bais Mattia
84. ▰ Fetter Erik
85. ▰ Fortunato Lorenzo
86. ▰ Gavazzi Francesco
87. ▰ Maestri Mirco
88. ▰ Sevilla Lopez Diego Pablo

Green Project-Bardiani CSF-Faizanè
◆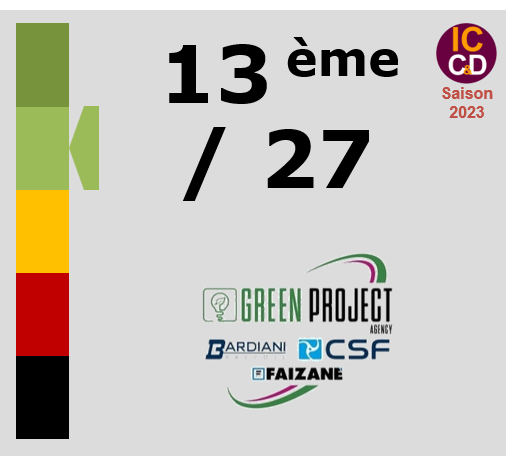 42 years of existence, 17 cases, ie 0,4 per year
91. ▰ Fiorelli Filippo
92. ▰ Covili Luca
93. ▰ Gabburo Davide
94. ▰ Magli Filippo
95. ▰ Marcellusi Martin
96. ▰ Mulubrhan Henok
97. ▰ Tonelli Alessandro
98. ▰ Zoccarato Samuele

Groupama - FDJ
◆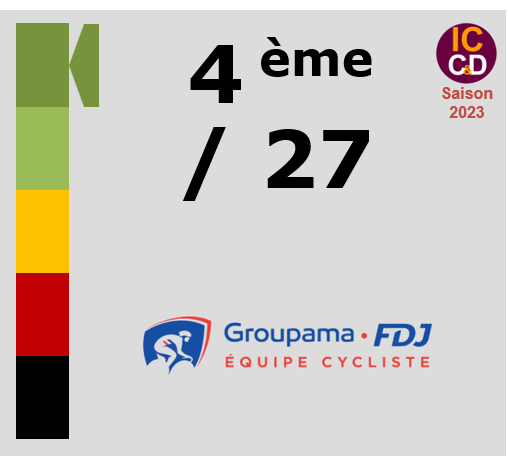 27 years of existence, 13 cases, ie 0,48 per year
101. ▰ Pinot Thibaut
102. ▰ Armirail Bruno
103. ▰ Konovalovas Ignatas
104. ▰ Küng Stefan
105. ▰ Lienhard Fabian
106. ▰ Molard Rudy
107. ▰ Stewart Jake
109. ▰ Van Den Berg Lars

INEOS Grenadiers
◆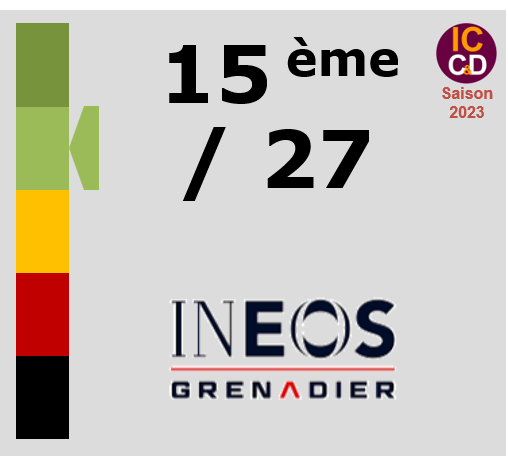 14 years of existence, 5 cases, ie 0,36 per year
111. ▰ Geoghegan Hart Tao
112. ▰ Arensman Thymen
113. ▰ De Plus Laurens
114. ▰ Ganna Filippo
115. ▰ Puccio Salvatore
116. ▰ Sivakov Pavel
117. ▰ Swift Benjamin
118. ▰ Thomas Geraint

Intermarché - Circus - Wanty
◆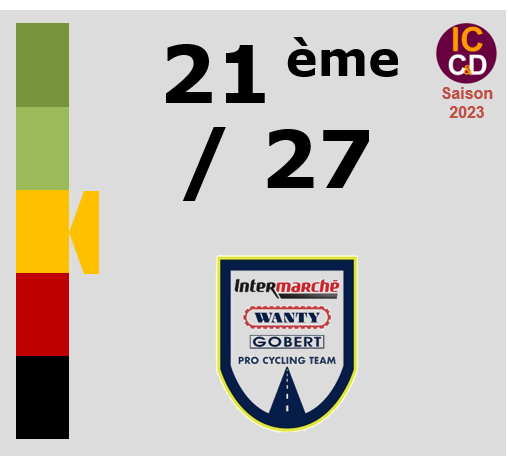 19 years of existence, 4 cases, ie 0,21 per year
121. ▰ Rota Lorenzo
122. ▰ Bonifazio Niccolò
123. ▰ Bystrom Sven Erik
124. ▰ Huys Laurens
125. ▰ Marit Arne
126. ▰ Petilli Simone
127. ▰ Rex Laurenz
128. ▰ Taaramae Rein

Israel - Premier Tech
◆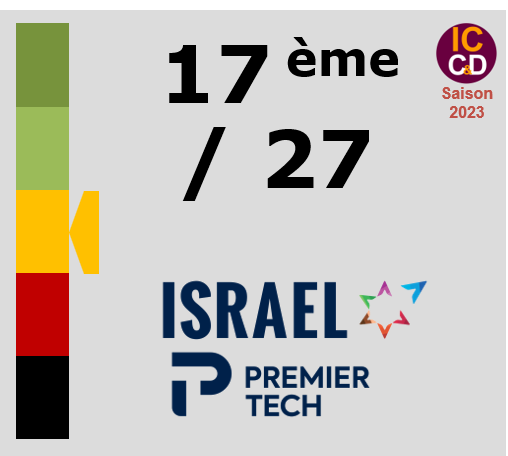 9 years of existence, 1 case, ie 0,11 per year
131. ▰ Pozzovivo Domenico
132. ▰ Berwick Sebastian
133. ▰ Clarke Simon
134. ▰ Frigo Marco
135. ▰ Gee Derek
136. ▰ Riccitello Matthew
137. ▰ Wurtz Schmidt Mads
138. ▰ Williams Stephen

Jumbo-Visma
◆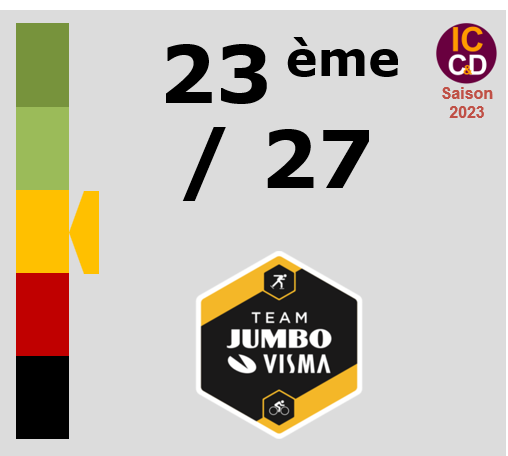 40 years of existence, 25 cases, ie 0,63 per year
141. ▰ Roglic Primoz
142. ▰ Affini Edoardo
143. ▰ Bouwman Koen
144. ▰ Dennis Rohan
145. ▰ Hessmann Michel
146. ▰ Kuss Sepp
147. ▰ Gloag Thomas
148. ▰ Oomen Sam

Movistar Team
◆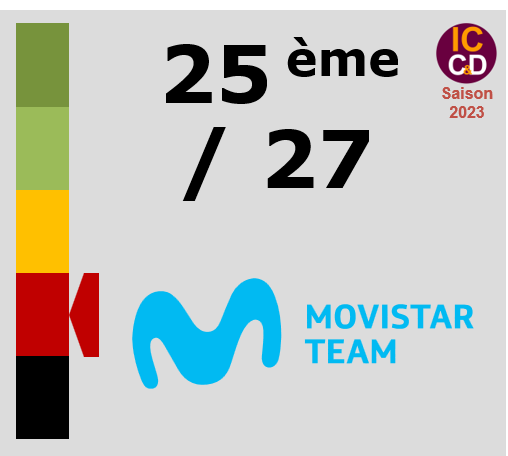 44 years of existence, 29 cases, ie 0,66 per year
151. ▰ Gaviria Rendon Fernando
152. ▰ Barta William
153. ▰ Kanter Max
154. ▰ Rodriguez Oscar
155. ▰ Rojas Gil Jose Joaquin
156. ▰ Rubio Reyes Einer Augusto
157. ▰ Torres Barcelo Albert
158. ▰ Verona Quintanilla Carlos

Team Arkéa Samsic
◆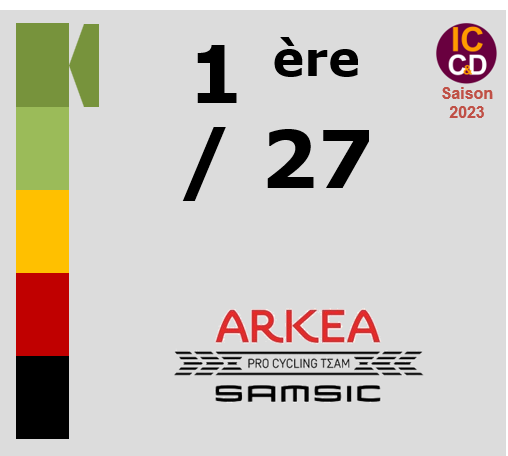 28 years of existence, 1 case, ie 0,04 per year
161. ▰ Barguil Warren
162. ▰ Bouet Maxime
163. ▰ Dekker David
164. ▰ Guernalec Thibault
165. ▰ Ries Michel
166. ▰ Riou Alan
167. ▰ Russo Clément
168. ▰ Verre Alessandro

Team Corratec
◆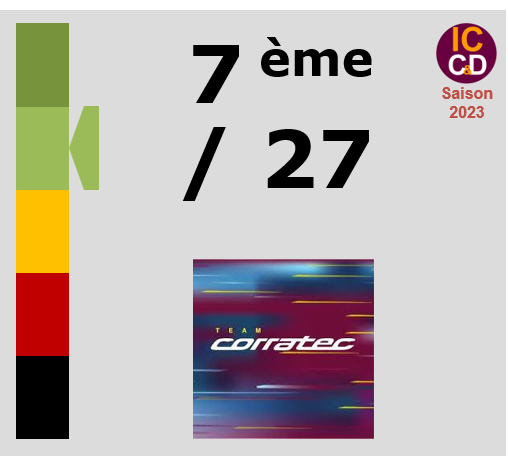 2 years of existence, 0 cases, ie 0 per year
171. ▰ Conti Valerio
172. ▰ Dalla Valle Nicolas
173. ▰ Gandin Stefano
174. ▰ Iacchi Alessandro
175. ▰ Konychev Alexander
176. ▰ Quarterman Charles
177. ▰ Stojnic Veljko
178. ▰ Vacek Karel

Team DSM
◆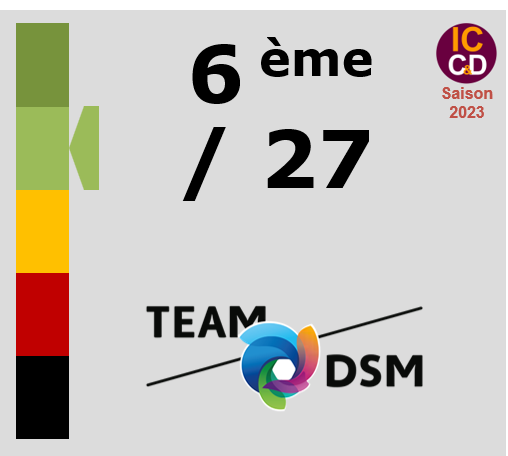 19 years of existence, 3 cases, ie 0,16 per year
181. ▰ Leknessund Andreas
182. ▰ Dainese Alberto
183. ▰ Hvideberg Jonas Iversby
184. ▰ Markl Niklas
185. ▰ Mayrhofer Marius
186. ▰ Stork Florian
187. ▰ Tusveld Martijn
188. ▰ Vanhoucke Harm

Team Jayco AlUla
◆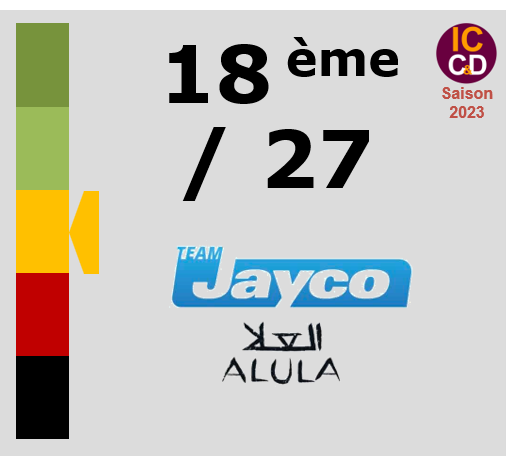 12 years of existence, 4 cases, ie 0,33 per year
191. ▰ Matthews Michael
192. ▰ De Marchi Alessandro
193. ▰ Dunbar Eddie
194. ▰ Hepburn Michael
195. ▰ Pöstlberger Lukas
196. ▰ Scotson Callum
197. ▰ Stewart Campbell
198. ▰ Zana Filippo

Trek - Segafredo
◆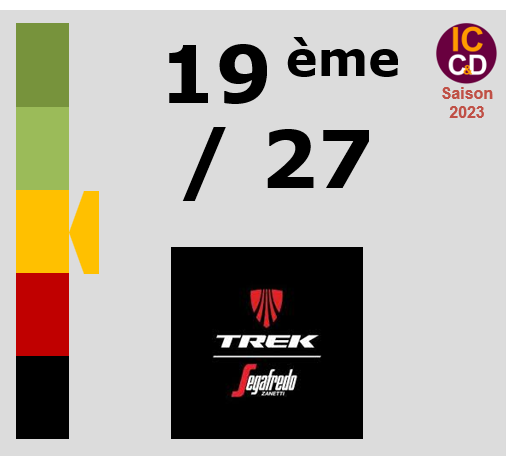 13 years of existence, 4 cases, ie 0,31 per year
201. ▰ Pedersen Mads
202. ▰ Ghebreigzabhier Amanuel
203. ▰ Hoole Daan
204. ▰ Kirsch Alex
205. ▰ Mollema Bauke
206. ▰ Skujins Toms
207. ▰ Tesfazion Ocbit Natnael
208. ▰ Vergaerde Otto

UAE Team Emirates
◆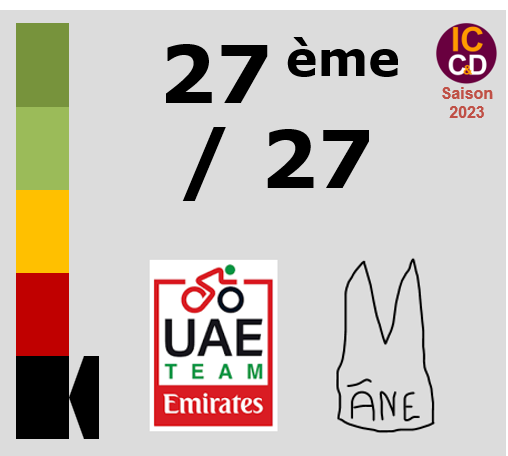 25 years of existence, 34 cases, ie 1,36 per year
211. ▰ Almeida Goncalves Joao Pedro
212. ▰ Ackermann Pascal
213. ▰ Covi Alessandro
214. ▰ Formolo Davide
215. ▰ Gibbons Ryan
216. ▰ Mcnulty Brandon
217. ▰ Ulissi Diego - 2014 : positive control
218. ▰ Vine Jay